May 26,2023
Why Law Firms Should Adapt Legal LMS : A Detailed Exploration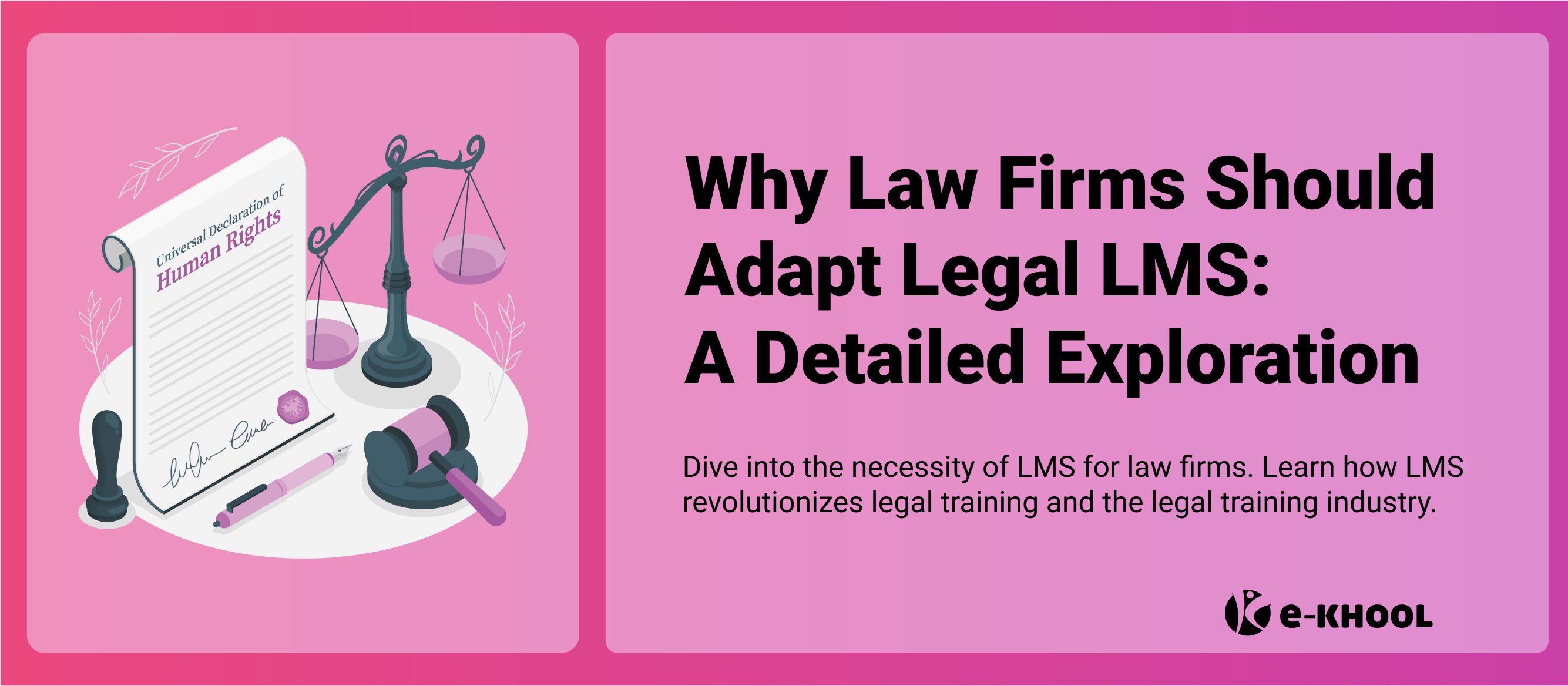 In a rapidly evolving legal landscape, a Learning Management Systems for law firms has emerged as a necessity, not a luxury. Its capacity to streamline legal training, maintain compliance, and keep a competitive edge is transforming the legal industry through a Learning platform for law firms.
This comprehensive guide will help you understand the value of an LMS for your law firm, its must-have features, and answers to common questions about e-khool, a specific LMS tailored for law firms. Let's have a quick walk through of this article.
The Changing Landscape of the Legal Industry
The legal industry is evolving rapidly. From regulatory changes to the rise of AI and the legal implications of new technologies, there's a lot to keep up with. Law firms need a practical and effective method to keep their teams updated through online law courses with certificates. That's where LMS for law firms comes in. With top-notch legal training modules, the best Learning platform for law firms can keep learners stay up-to-date.
The Rising Need for Training in Law Firms
The legal industry's reliance on up-to-date knowledge and continuous skill enhancement from legal drafting courses cannot be overstated. This is where Legal training LMS comes in. A LMS for legal industry offers structured learning, tracking, and progress reporting, making it an invaluable tool for law firms' continuous professional development.
The Game-Changer: LMS for Legal Training
Traditionally, legal training was time-consuming and rigid. An LMS for Legal Industry changes that, providing standardized content that can be updated swiftly and easily. It ensures that everyone in the firm is receiving the same level of legal drafting courses with instruction, making training more effective. With 24/7 accessibility, legal professionals can learn at their own pace and convenience.
Why Adopt an LMS for Your Law Firm?
Adapting an LMS for Law Enforcement Industry offers numerous advantages for law firms. These include standardized learning, increased accessibility, trackable progress, reduced costs, and improved compliance. Learning platform for law firms offers a centralized platform for training and can be tailored to the specific needs of the firm, making it a must-have tool for the modern law firm for perfect Professional Legal Training,
Consistent and Standardized Training
An LMS for legal practice management course allows law firms to deliver consistent and standardized legal legal drafting courses across the firm. It ensures everyone has access to the same learning resources and training materials, which helps create a uniform understanding of legal issues and procedures.
Efficient Management of Learning Resources
LMS for Law Enforcement Industry simplifies the management of learning resources. It helps in creating, storing, and organizing a large volume of learning content for legal practice management course. You can easily update or modify the content as and when required, ensuring it always stays relevant.
Compliance Tracking
Given the highly regulated nature of the legal industry, compliance training for online law courses with certificates is vital. An LMS for legal practice management course can track each employee's completion of compliance-related training, helping the firm stay compliant with regulations.
The Role of LMS in Legal Training
LMS, or Learning Management System, is a software application for the administration, documentation, tracking, reporting, automation, and delivery of educational courses, training programs, or learning and development programs. In the context of law firms for law certificate courses, Law Society LMS offers a way to keep lawyers and other legal professionals up-to-date with changing laws, regulations, and legal practices by offering law certificate courses.
Must-Have Features of an LMS for Law Firms
Here are the must-have features for an LMS intended for use in law firms:
| | |
| --- | --- |
| Features | Description |
| Content Customization | The ability to customize learning content based on the firm's specific needs in publishing courses for lawyers. It also should support upload of multiple file formats including docs/docx, xlsx, ppt, pdfs, mp3, mp4, SCORM etc. |
| Progress Tracking | Track the progress of each learner to ensure they're completing their courses and achieving their learning goals in the Learning platform for law firms . Generate reports based on learners' performance on various modules. |
| Compliance Management | The capability to manage and track compliance-related training from a single admin dashboard of best Legal training LMS. |
| Multi-Language Support | If the firm operates globally, the Law Society LMS should support multiple languages. It also should allow the management to add or remove required labels. |
| Integration | The perfect Learning platform for law firms should have the ability to integrate with other firm systems like HR and accounting software and also the ability to support third party services related to the training platform. |
How does SCORM compliance LMS help to build a legal training portal?
The Legal training LMS is capable of delivering, monitoring, and reporting on SCORM-compliant online law courses. A law firm might benefit from having a SCORM compatible LMS in a number of ways. It can offer regular and current training on legal issues, rules, and best practices for staff members and attorneys. This creates space for cost savings and requires less time than typical classroom training or outside law certificate courses. It also makes it possible for different roles and levels of competence to follow flexible and customizable learning paths. Via interactive elements like forums, chats, and quizzes, this improves collaboration and communication between learners and their instructors.
Also read : Best SCORM LMS software to publish SCORM content
e-khool LMS - Right eLearning platform for continuing legal education (CLE)
e-khool, one of the top Law Society LMS for continuing legal education (CLE). It provides a range of programmes and online law courses to assist lawyers and other legal professionals in keeping up with the most recent advancements and trends in their industries. Moreover, interactive tools and features are offered by the e-khool LMS to improve the learning process and monitor students' progress. E-khool LMS is the best option for you whether you need to complete your CLE requirements, increase your knowledge, or advance in your job.
e-khool LMS for Legal Industry : Your Questions Answered
Considering e-khool LMS for your law firm? Here are answers to some frequently asked questions(FAQ).
Q1: What makes e-khool an ideal LMS for law firms?
e-khool LMS is designed with the specific needs of law firms in mind. It offers all the essential features like content customization, progress tracking, compliance management, multi-language support, and integration capabilities.
Q2: Can e-khool LMS handle the volume of legal content my firm needs?
Absolutely. e-khool LMS is designed to manage large volumes of content effectively, ensuring your firm can store, organize, and deliver all its legal training materials easily.
Q3: Can e-khool help with compliance training?
Yes, e-khool has robust compliance management features that allow you to manage and track compliance-related training effectively.
Q4: How user-friendly is e-khool LMS?
e-khool LMS prides itself on its user-friendly interface, making it easy for both learners and administrators to use.
Q5: Can I integrate e-khool LMS with my firm's existing systems?
Yes, e-khool LMS can be integrated with other firm systems, ensuring a seamless flow of data and information across the firm.
---